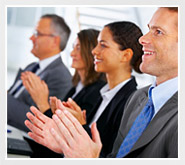 Last month, ACCES Employment (GTA, Ontario), a leading not-for-profit organization that connects employers with qualified employees from diverse backgrounds, invited Win Global Partners to organize a seminar on Import Export Business In Canada for the students of Entrepreneurship Connections Program.
In response to that invitation we delivered a few workshops. The latest one took place on April 23, 2014. Export &import consultant Igor Chigrin spoke on "How To Set Up Import Export Business In Canada From Scratch".
This seminar was organised for Ontario-based small and medium business owners who are interested in starting international business and need assistance with its different aspects, like Pricing for Export & Import, Marketing & Sales Plan, Logistics, Closing Sales, etc.
So, if you are one of them and you need more information on those topics, watch the following videos recorded at the seminar.
Don't forget to follow us on YouTube. We'll upload many new useful video and presentations on international business soon.
You can find us on Twitter and LinkedIn as well.
Kind regards,
Igor Chigrin
Your Export-Import Consultant.
P.S.
Win Global Partners offer corporate and public seminars & webinars on international business, marketing and trade.
P.P.S
Also, you are always welcome to ask us your individual questions.