Igor Chigrin, CITP, Export & Import Consultant, Co-Founder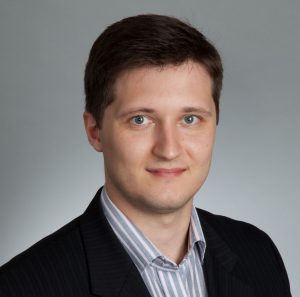 Igor Chigrin is an Export & Import Consultant and Co-founder of Win Global Partners. He consults businesses on a wide range of international business aspects and helps them establish and/or grow their export & import sales. Also, Igor coaches early-stage export & import businesses and delivers educational sessions on international trade.
Igor has more than a 10-year consulting experience. He holds the Certified International Trade Professional (CITP) designation from the Forum for International Trade Training or FITT (Canada). He also has a master's degree in International Business from Grenoble Graduate School of Business (France) and a bachelor's degree in Management from the International University of Business and New Technologies (Russia).
Igor is a recognized subject-matter expert in international trade and export business development featured in media such as Rogers TV, RTDS radio station, newspapers (The Liberal, the National Post, Toronto Business Times) and FITT newsletters. Igor is the author of Incoterms 2010 wall chart downloaded by more than 3500 trade professionals around the world, brochures and books on exporting and importing. In 2013 he became a finalist for a First Most Promising Immigrant Entrepreneur Award.
Since 2009 Igor has been living with his family in the Greater Toronto Area, Ontario, Canada. He speaks English, French, and Russian. His hobbies are cycling and modelling.
Connect: ca.linkedin.com/in/igorchigrin
Tatiana Zherebkova, Business Development Manager, Co-Founder
Tatiana Zherebkova is a Business Development Manager and Co-founder of Win Global Partners. She is responsible for business development and marketing activities of Win Global Partners as well as she participates in international marketing projects of Win Global Partners' clients.
Tatiana has more than a 10-year marketing experience in different fields such as IT services, education programs (MBA), fast-moving consumer goods.
She is a Marketing Program Graduate from Grenoble Institute of Political Studies (France) and holds a bachelor's degree in History from the Yaroslavl State Pedagogical University (Russia).
Since 2009 Tatiana has been living with her family in the Greater Toronto Area, Ontario, Canada. She speaks English, French, and Russian. Her hobbies are reading, piano playing, dancing, swimming, and cycling.
Contact Tatiana: tatiana@winglobal.ca
Connect: ca.linkedin.com/in/tatianazherebkova/
Fernando Pena, Senior Research Analyst
Fernando Pena is a Business Development Professional with over 20 years' experience in international business development, sales and marketing, opening and developing markets in more than 30 countries worldwide, specifically in Canada, the U.S.A., Latin America, the Caribbean, Europe, Asia and Australia, for international companies in the banking, mining, construction, logistics, electronics and glass fields.
Fernando graduated from the Instituto Tecnologico de Monterrey in Mexico as an Electronic and Communications Engineer, with a Master in Business Administration majoring in Marketing and Finance from the same institution.
He made a one-year technical training at the Panasonic Corp. in Japan. He studied and worked one year at the Technischen Universität Clausthal, and worked another year at the research and development Fraunhofer-Gesellschaft Institut, both in Germany.
Because of his knowledge of the German industry and language, he was asked to support an international industrial group to open and develop their European markets. Since then he embraced the business development career. He speaks Spanish, English, Portuguese and German.
Fernando has two daughters and one son, who have been studying in Mexico and Canada. He enjoys travelling around the world, road and mountain biking, long-distance running and spending time outdoors with family and friends in the beauty of the Canadian forests.
Contact Fernando: fernando@winglobal.ca
Connect: https://www.linkedin.com/in/fernandopena1/