Puzzled with the application or interpretation of
Incoterms

® 2010 rules to your case? Wanted to avoid their misuse and your possible losses?

Consultation on Incoterms 2010 Interpretation of Trade Terms includes:
Analysis of your situation
Careful choice of the

Incoterms

® 2010 rule(s) that best suit(s) your case with references to the official International Chamber of Commerce Guide
Recommendations on future application
You get: A written report with clear, easy to understand and detailed answers to your questions regarding Incoterms® 2010 application. So, all you need to do is just to apply it and perform export or import transations.
Objectives of Incoterms 2010 Interpretation of Trade Terms:
avoid expensive costs of the international litigation
prevent fraudulent activities of your buyers or suppliers
minimize the risk of the problems in customs clearance related to the customs valuation.
What our clients say:
Parag Shah, Precious Stones and Metals Import Project
"Igor Chigrin is a highly professional consultant who delivers solutions on time and quickly understands the virtues of it. He is expert in the INCOTERMS & EXPORT – IMPORT arena. He is the most trustworthy consultant."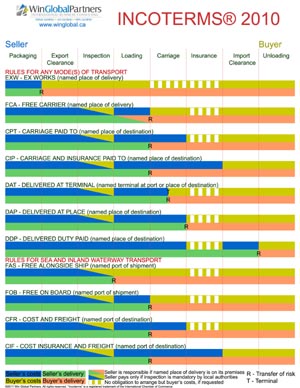 Delivery time: 2-5 business days
Fee: just $90 $75 per case of ANY(!) complexity 
+ BONUS – Incoterms® 2010 Wall Chart Advanced E-Version!  →  
Example – Our Client's Case:
The client imports precious stones and metals to the United States from different countries. The client is currently using CIF (Cost, Insurance and Freight) Air Freight, Clients Facility, as a term of the international sale. The client also requests the Seller to arrange both transport and insurance from the point of shipment to the client's facility and pay customs duties in the United States.
---
You may be also interested in: